Meet Laura Corcoran, RMT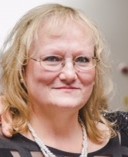 Laura Corcoran is a Registered Massage Therapist, Usui Reiki Master and Lymph Drainage Therapist. She has over 25 years of experience and offers a wide variety of Bodywork services to suite your needs. Her signature massage includes both Therapeutic and Swedish Relaxation techniques. You can also experience Massage and Lymph Drainage together or Massage and Reiki together for the ultimate treatment. Aromatherapy may also be added if you wish.
LYMPH DRAINAGE THERAPY is a specialized technique, well suited to anyone needing relief from the discomfort of mild to moderate edema or swelling and to reduce the overload on your lymphatic system. It is helpful with a dietary cleanse, post- surgical recovery, prenatal/postnatal edema, to help relieve sluggishness and exhaustion, to promote optimal circulation of both blood and lymph and to stimulate the lymph system to help the body remove toxins.
THERAPEUTIC MASSAGE can utilize various therapeutic techniques such as: Trigger Point Therapy or Cyriax Frictions and moderate to deep tissue release. Laura has found combining Therapeutic with Swedish Relaxation most beneficial for muscle recovery.
SWEDISH RELAXATION MASSAGE utilizes long smooth movements and relaxation techniques to give you relief from stress, anxiety, muscle stiffness and soreness. This type of massage can also lower your blood pressure and give you a sense of calm.
USUI REIKI activates the natural healing processes of the body. As a Reiki Master, Laura has learned to channel healing energy to her clients to promote healing and well- being. This energy healing works well when added to either Massage or Lymph Drainage.
She has many years of training and experience with all types of massage therapy including: Pre/postnatal, Autoimmune diseases, Chronic Pain conditions, injury recovery, gentle massage for Seniors and Children, stress reduction and help with cancer survivors.
Laura Corcoran is known for having "healing hands" and is looking forward to continuing her healing work at Docere Wellness Centre; "Fighting Pain with a gentle touch."
Our Goals at Docere Wellness Centre are:
... to listen and be respectful
... to create a collaborative partnership
... to treat the whole person, not the illness
... to address the root cause and not just treat symptoms
... to honour the healing power of nature