By Amanda Delamer, MSc, ACC, CPCC
My family and I just got back from an amazing trip to Argentina. It was so restful and rejuvenating, and I didn't come back feeling like I needed a vacation following my vacation. Yesterday, I was reflecting on our time away and the joy I experienced, and then remembered that I had experienced some anxiety and panic leading up to our trip.
I don't know about you, but every time before we go on vacation somewhere hot (i.e., where wearing a bathing suit is involved) a lovely little voice likes to pop into my head and say…"okay, you've got X amount of days/weeks to lose X amount of pounds. When you lose some weight you will be ready to have an amazing time on vacation. When you drop 10 pounds you will be happy."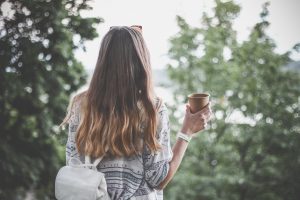 This voice is certainly not coming from my inner leader, but instead a sneaky saboteur trying to convince me that I will be happier "when". A few days before our trip to Argentina (where we have family and friends who I will see again) the lovely voice was back letting me know that "you'll be okay this trip, but think about next time when you have lost some of your baby weight." Yep, the voice is good, it's so positive and optimistic, NOT!
With so many years of experience with this lovely little voice…I witness myself moving quite quickly from "when" to "and". I love my life, I love me as I am, in this moment AND I will continue to live a healthy lifestyle. If that results in dropping a few pounds, great, but the joy I experience in my life and my love for myself, in this moment, is not dependent on it.
So what's your "when"? When I…lose 10 pounds, get that promotion, have children, finish this big project at work, move into a larger home…Whatever it is, what would it be like to feel joy now, in this moment AND commit to goals that are important to you? You might even find that finishing a project or dropping 10 pounds – that goal that has the "I will be happy when…" attached to it – is really not what is most important, you just have it on your "to do" list because you're supposed to or you think you should.
What if you experienced joy in your life, loved your life and loved who you are, as you are today, in this moment?
I'm not saying drop your goals, go after them if they are important to you. I'm just throwing out there that experiencing joy and fulfillment is something that is available to you in this moment, if you are willing to let it in. And you can have goals and create change in your life.
Amanda Delamer is a self-awareness and fulfillment coach. Amanda coaches and supports people in living healthy, balanced and fulfilled lives. She coaches and honours the whole person – mind, body and spirit. Her clients experience fulfillment in all parts of their lives – health, family, relationships, career, and beyond – and they value and appreciate that all parts of their lives are connected, and that we all have responsibility in and for the world around us. She lives in Calgary, Alberta, Canada with her husband and three children.
Book in for your complimentary coaching session with Amanda Delamer. Call 403-452-6262. NEW CLIENT PROMOTION – 4 months of Coaching for the price of 3! Create space for joy, fulfillment and self-awareness!